Is Lana's New Album a Blast to the Past?
Did You Know That There's A Tunnel Under Ocean Blvd?, Lana Del Rey's new album, releases on March 24. Taylor Hartstone previews the highly anticipated record.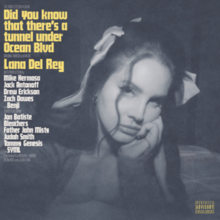 American musical artist Lana Del Rey is well-known for her eclectic personality and incredible lyricism. Her 8 studio albums showcase her talent perfectly and provide many fans with a deeper understanding into her mind. Her most recent single Did You Know That There's A Tunnel Under Ocean Blvd? is a work of art. The song alludes to the era of the 1970s and samples Harry Nilson's song Don't Forget Me, the title of which features as a recurring lyric on Lana's new single. She describes elements of loneliness and low self-esteem whilst being in a relationship. Did You Know That There's A Tunnel Under Ocean Blvd? was a surprise drop on December 7th, with her new album of the same name being released on March 24th of 2023.
 Many fans speculated a new album dropping soon because of hints Lana Del Rey released on her social media, but it was confirmed with the lead single. The album, produced by Mike Hermosa and Jack Antonoff, amongst others, is reportedly going to feature several seminal artists, including Father John Misty and John Batiste. The teaser single is a dreamy ballad that includes vocals and thoughtful lyrics, sometimes read like a poem, leading many to believe the album will have similar elements. The album could also compare to Born To Die, her breakout album that many cite as the blueprint for her work. Orchestral songs were prominent on the 2012 record, and many fans are hoping for something similar with her new project. Her creative aesthetic and use of the pop culture of the 1970s have been a big part of her music since she started, so assuming this will be included on the new album is not a huge reach. Many lyrics on the new single hint at the continuation of her prior ethos, including lines like "I can't help but feel somewhat like my body marred my soul / Handmade beauty sealed up by two man made walls" and "It's because she's in a world, preserved, only a few have found the door / It's like Camarillo, only silver mirrors, running down the corridor". It's lyrics like these that make Lana one of the most influential artists of today's generation. She reaches into a part of her soul to write songs that only some musical artists have done before. 
The song's titular character, the tunnel under Ocean Blvd, has been forgotten by many. Today, it's called the Jergins Tunnel, still located in Long Beach, California. The tunnel opened in 1928 and was a great form of transportation for many but has been sealed since 1967. However, the tunnel may be reopened sometime in the future because of a project proposed by the Seattle-based firm – American Life – to build a 30-story hotel atop the tunnel's resting place. Despite the modern use of the land, the project will also see the tunnel renewed. While Lana Del Rey's lyrics of emptiness may reign true in her mind, this tunnel may get another chance. 
Did You Know That There's A Tunnel Under Ocean Blvd is definitely worth the listen once it is released in March. Lana Del Rey has won many awards for a reason, and her lyricism will show through in this new album. This album has all the potential to be a masterpiece because of Lana Del Rey.