Switching Sports: Flynn Wendell's Journey From Soccer Star to Golf Genius
According to Atticus Hodapp, Flynn Wendell is "godlike" on the golf course and a leader for his team and peers. Flynn has a 7.8 handicap and usually shoots around 80. Flynn is fun to play with and always has a smile on his face while playing. He contributes a very positive and fun vibe to the golf team. His teacher, Mr. Glover says that, "Flynn is walking around with a big, cheesin' smile on his face" every time he sees the young man in the hallway. Flynn is very positive on the golf course and is always happy to be there no matter what.
Flynn is a junior at West Seattle. He played soccer all his life until high school started, when he started playing golf instead. I didn't understand how you could just not play a sport you've played your whole life. I've played baseball my whole life and I couldn't imagine life without it, so I asked Flynn a few questions to see what his point of view was and how he handled the shift in his life's focus.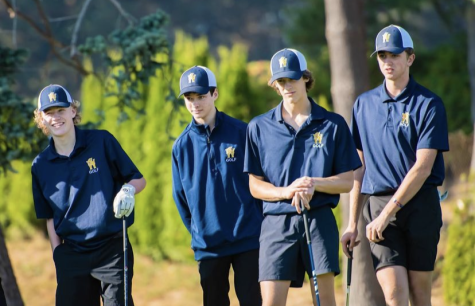 Flynn said he chose golf over soccer because "golf is better in the long run…you can play golf forever". Which makes a lot of sense, once you start getting on in age it's going to be pretty tough to run around for an hour straight like you do in soccer. When playing golf, there's no out of breath or running or anything like that. "At first it was really weird not playing soccer anymore like when I saw a soccer ball in my room, I would feel sad, but after a little while I got used to it and adjusted to the change". To me that is impressive because I don't think I would be over that choice until I die.
When I asked Flynn if he regrets his choice, he said he doesn't regret it because he thinks it was the right choice to make, and in the end that's all that matters. During Flynn's interview he seemed like he has come to terms with the fact that he no longer plays soccer, but at some points when he went into detail about his choice and how feels about it I could sense that deep down some part of him still misses it, but who could blame him because if we didn't play the sport we once loved and played our whole lives we would miss it.
Flynn is confident that he will be captain next year and hopefully he can lead the team all the way to state. He's looking forward to his senior season and hopes that they can turn the team around and bring back a trophy to add to the already bulging trophy case here at West Seattle. His biggest goal this season is to shoot under 80 in the majority of his matches and to take his team to the Metro League championship, and then onto state.