Wildcat Bowling
A child celebrates their seventh birthday party, cheering with their friends. An old man spends the night with his grandson, making long-lasting memories. The West Seattle Bowling Alley brings these contrasting worlds together under one roof. One of these worlds is the West Seattle High School bowling team. 
Leadership is a strong point on this team, with them having a coach as well as multiple captains. Lauren Ellingson, Co-Captain of the Wildcat bowling team, gave us some insight into the culture of the team.  
In her freshman year, Ellingson had heard Coach Jeremy Marzofka promoting the new bowling team.  
"I talked to my friend, and I was like, 'Maybe we should join bowling,'" Ellingson said.  
Since then, Ellingson has grown to be a team co-captain alongside Jasmine Bachmeier-Emswiler. The captains work hard to make sure everyone feels welcome, tries their best, and encourages the team to bring forth their best spirit.  
Not many people consider bowling when thinking of school sports to join, especially because it is so new. Even Ellingson did not consider bowling at first!  
"I always liked bowling since I was little, but I never thought I could do anything with it," Lauren says.  
Ellingson quickly fell in love with the sport and the team, especially its strong sense of support and sportsmanship.  
"We always wish the other team good luck, we always wish each other good luck, and we shake hands or fist bump the other team after matches," says Ellingson.  
She describes the team as a family where everyone is welcome.  
"We try our best to make sure to high-five everyone after they get something good," she says. "Even if they don't, we high-five them anyways to make sure they know we're watching." 
To these ladies, working on being a team is just as important as practicing the sport. The team practices almost every day of the week. This gives them an opportunity to get to know each other and work hard to improve. 
Though they work hard, the team finds it important to create a positive setting to practice in.  
"We stretch and we bowl, then we just chit chat." Ellingson says. "It's a pretty relaxed environment, like a hang out." 
Though a dedicated team already, the Wildcats have only been together for three years! The wildcat bowling team was created by Evan Smith during her senior year. Smith has been bowling for 14 years and had been pushing for a bowling team since her freshman year of high school along with Coach Marz. She finally received it during her last year of high school. 
Within its three years of existence, the team has won districts, won metros twice, and placed eighth in state! The Covid-19 year was rough, and many could not attend due to precautions, but the team was still able to snag metros!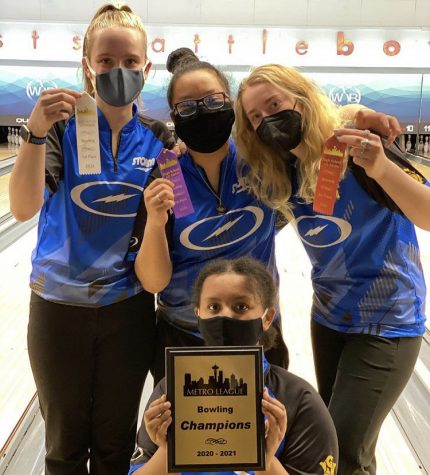 Currently, the match schedule is still evolving, but keep an eye out on the Olympian website for upcoming bowling events.