Van Gogh Immersive Experience
Vincent Van Gogh is one of the most renowned artists in our day and age, however this was not always the case. The Dutch artist only ever sold one painting in his lifetime called "the red vineyard." Since his death, Van Gogh's work has skyrocketed in popularity. Museums all around the world display his work. Kröller-Müller Museum in Otterlo, Netherlands, Van Gogh Museum in Amsterdam, Netherlands, Musée d'Orsay in Paris, France, Yale University Art Gallery in New Haven, Connecticut, and many more have some of Van Gogh's most famous pieces. But one exhibit is exploring new mediums displaying Van Gogh's art.
With 360 projections, virtual reality, and 15,000ft screens is the "Van Gogh Immersive Experience." The exhibit in the SODO district of downtown Seattle projects many of Van Gogh's most famous pieces. "The Starry Night" being one of these paintings. 
Part of what makes this exhibit unique is the use of projecting art onto canvases instead of having physical paintings. The light is kept low, so the art pieces become your main source of light in the exhibit. As you walk through looking at the paintings, quotes spoken by Van Gogh are played over the speakers along with music to immerse you even further into the mind of Van Gogh. "When I first went in, I thought it would be like any other exhibit but as I got further in, I realized how different it was and how creatively they were presenting Van Gogh's art" says WSHS student Erika Justus when asked about her experience at the exhibit.  
After moving through the projected paintings, you enter the most creative part of the experience. Two stories of 360 animated art. A myriad of art pieces moves all around the walls and floor looking as though you could reach out and touch it. In "Starry Night Over the Rhône" the boats move through the water and the stars move through the sky.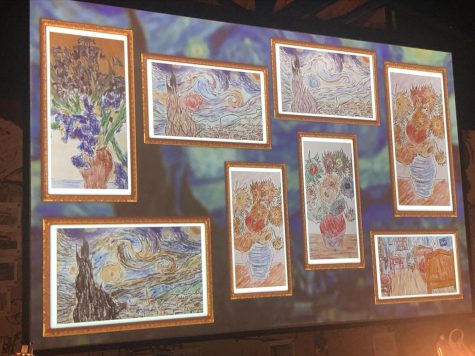 What really makes this a wonderful experience for the whole family is the coloring portion. After being projected into the mind of Van Gogh you get to become the artist. You pick a coloring page designed to look exactly like one of Van Gogh's paintings and color it in yourself to create a unique piece to scan and project on the screen. Other's art is hung on the walls to continue the feeling of creativity.  
The immersive experience really lives up to its name. Everything kept me surprised and intrigued me the whole way through. I have never seen anything quite so unique.