The Role Earth Club Plays in Keeping Our School Green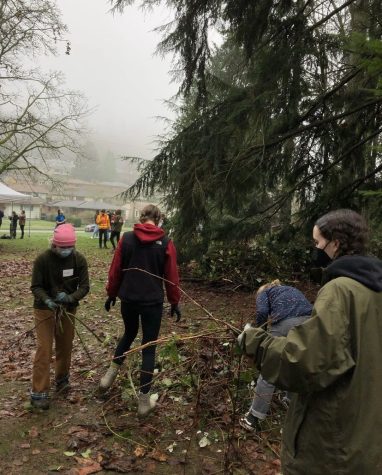 Attention westside students! Looking to be green and keep the Earth clean? Gardening, political action, and garbage pickups await. Earth Club does all this and more as the greenest team in West Seattle High (expect maybe paintball).  
           Jane is a senior at West Seattle High and, since freshman year, has grown into a prominent member within the club.  
          "My freshman year I joined because [Earth Club] was a big thing. A lot of the fun, cool seniors were in it, so I joined. I also care about the Earth but [Earth Club] has been around for a long time," says Jane.   
           Earth Club specializes in three main committees: Gardening Committee, Political Action Committee, and In-school Action Committee. However, they often work together as one group.  
           The Gardening Committee works on the garden boxes around the school sowing carrots, spinach, cauliflower and more. They have done hard restoration work and are currently applying for grants to repair westside's garden beds.  
           The Political Action Committee, as the name suggests, works on political issues surrounding the environment. Sam, the Vice-President of the club and a member since freshman year said, "They were formally the West Seattle High School Sunrise Club, but they merged with us this year and are doing some similar work. Recently (last December), we all went down and did a protest in the junction led by them." That protest was centered around pollution in the Duwamish River.  
         Last, but not least, is the In-school Committee, who advocate for topics involving the school and community around it. This area includes Hiawatha and the school parking lot. They work on fundraisers, such as their bake sale, which raised around five hundred dollars.   
        Earth Club was hit hard by Covid-19. "We had zoom meetings mostly with a YMCA leader and then it was just me [Jane], Sam and there was one freshman who showed up. We had like four people in our zoom meeting maybe," says Jane. "We tried to put together trash pickups and we ended up doing it, but it was just very small and just didn't work."   
        However, since then their membership has bloomed, growing to a size of over 40 members, making it one of the largest clubs in the school.  
        If you want to see the impact Earth Club has made, look around the school. They advocated for the recent removal of plastic water bottles, helped keep the school grounds free of garbage, and have led several successful fundraisers.  
       Their current projects include reducing paper waste in the bathrooms by adding compost bins, installing additional bike racks near the parking lot, and obtaining a new water fountain for filling reusable bottles with more plans for the future.  
       You can find Earth Club meetings in room 140 after school Wednesdays and @wshsgreenteam on Instagram.