The Adventures of CIEE
Greece! Spain! Morocco! Portugal! Have you ever wanted to travel to one of these amazing places? Well lucky for you wildcats, West Seattle Highschool has a great program so you can do just that.  
This program is called CIEE. Council on International Educational Exchange. At CIEE they offer many opportunities to study abroad There are options to spend 1-2 semesters of high school abroad, part of summer abroad, or a gap year abroad.  
The CIEE website is a great place to go if you want to learn more. We also are going to talk to a few people who have used CIEE to travel abroad. To learn about their experience and advice they may have for others who are interested.  
Senior Ava Lockman traveled to Barcelona, Spain for a language and culture program during June 2021.  
Ava had been wanting to travel abroad for many reasons. "I wanted to see more of the world through a local lens, and fully immerse myself in the culture." She says.  
Ava enjoyed everything while she was visiting Spain. She loved getting to know the people on her program, the locals, her school, the city, and the food. "It was all incredible" Ava tells us.  
While the trip was overall amazing, a certain memory stood out to Ava. "My favorite experience was celebrating Día del San Juan with my host family." Ava says. El Día de San Juan is an annual summer event to celebrate the coming monsoon season and honor St. John the Baptist.  
The overall experience for Ava Lockman was a success, but there are always some difficulties when immersing yourself in a new place, new culture, and new language. Ava had these difficulties and she also overcame them. "My biggest challenge was definitely communicating with my host family – the first week was the most difficult because I felt awkward talking to them in my Spanish, but once I got over that, I realized they just wanted to help me succeed with Spanish and didn't care about the mistakes I made when talking." Ava says.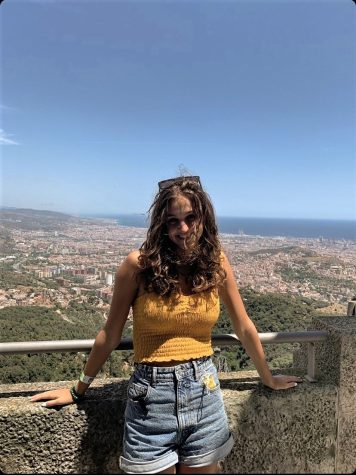 The trip was very impactful for Ava and a memory that will stay with her forever. She got to experience new things and learn new things. "My takeaways are to push myself out of my comfort zone more often, because the results are a growth in confidence and the ability and opportunity to explore things I never would've seen without that push." Ava tells us. 
Due to this incredible experience Ava thinks many other people should push themselves to adventure into CIEE as well. "I would HIGHLY recommend this to everybody, and I would definitely do it again. I plan on studying abroad in college, because its an incredible experience; seeing the world and interacting with cultures other than your own is something I hope everyone can do. Ava says. "My advice for others is that if you're thinking about participating in a study abroad program, even if you're not sure if you can even pay for it or go, just apply. You never know what'll happen, and you'll regret not applying more than you'll regret applying and seeing what happens."