Cheer Goes to State!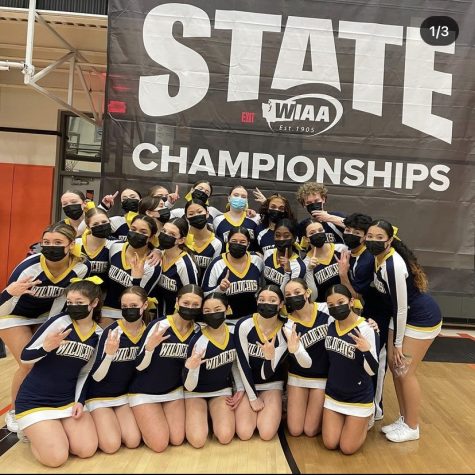 West Seattle Cheer entered their first competition on the second weekend of December and then recently went to State. Although this squad hypes up the crowd at games, how do they perform during their own competitions? For many of the cheerleaders, these competitions have been their first since covid. They were only able to compare it to their online competition last year, which was filmed on our own Wildcat turf.  
         "It was a good learning experience," said Zoe, a sophomore cheerleader, when talking about the first competition leading up to states. But when competitions get closer, the practices get more intense, quickly becoming a least favorite on this sophomores list.  
         "State was so much better," Alice, a freshman, admitted. She told us the energy was vastly different during states compared to their first competition – getting a party bus, a classroom to get ready in, as well as time for team bonding. "For the competition, we bond more as a team, like we don't just show up and go 'Ok let's go cheer them on!' It's our sport," she explained. 
          Often, Cheer is not considered to be a sport. Their skills can sometimes go unrecognized, but they are as enjoyable to watch as any other sport. The team performed well in both competitions, placing 2nd by a small margin. This cheer squad is a talented group, and we can expect remarkable things as they support on the sidelines, and flip onto the mats.