Art Opportunities in a Time of Disconnect
            For artists at West Seattle High School, the chance to display their creations – aside from art classes – is typically unheard of. However, a wide array of opportunities exists for students to take advantage of inside the school community and beyond. In an interview with Ms. Sloan, the beloved art teacher here at WSHS, some of these often-ignored opportunities were unearthed.  
            Starting within the school, the Art Club is a wonderful group where students can have a supportive and creative environment to have some fun creating art. Ms. Sloan is the club advisor, saying, "We have an awesome art club that meets Mondays and Thursdays, Thursdays [for] longer because I stay here a little bit longer. It's just a very relaxing place to just come and make art using any supplies in the classroom." 
            An annual art gallery takes place, called the Naramore Art show, which SPS holds for their schools to submit outstanding pieces of student work. The show is held every March and has successfully continued through COVID-19 by hosting its show online. The show will continue online this year, due to an increase in COVID-19 cases, preventing the typical in-person showing. If students are interested in displaying any of their artwork (including pieces done outside of class), they are welcome to meet with Ms. Sloan to show their work. 
          When asked about how online school may have affected students applying to art programs in college, Ms. Sloan stated, "I would say it affected things more last year than this year. This year, I've been able to offer an AP (Advanced Placement) course. And so, students who are interested in art school have been able to create portfolios and prepare for that."  
          Students planning to attend college with an art focus have been disproportionately affected by online-school because of the direct and personal nature of creating art under a teacher's guidance. Art schools often have expectations in mind for applicants to meet. Ms. Sloan added "But every school is different. Though in general, the majority of schools want to see a sketchbook where you're working in drawing, where you're visually looking at something and drawing it out. And a lot of them want to see body work, or face works." Even under the confusion or conflicting directions students are told to follow, there can be tangible steps schools want applicants to take. Though with the conflicts of COVID-19 and online school, Ms. Sloan says she has been able to maintain her established programs, and to continue to continue some of the opportunities offered to students.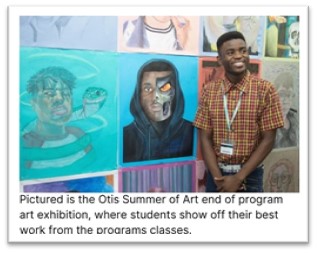 For students interested in pursuing art outside of high school, there are a variety of summer art programs available. Two programs recommended by Ms. Sloan are directed toward students seeking additional classes to further their skills. One of the programs is the Ringling College of Art and Design's PreCollege, which offers a 4-week intensive course that mimics a typical course load for students pursuing a Fine art focus in college. In the courses, attendees can build an art portfolio, and earn college credits for the courses they take. "I tell everyone who's interested in coming to Ringing to go to PreCollege. It's one of the most amazing experiences a young artist can have. In their 4 weeks here, you'll be a better artist, but more importantly, PreCollege will help you figure out what you want to do with the rest of your life," says Dr. Larry Thompson, the president of Ringling College of Art and Design. More information about the program can be found here. 
           An additional summer program is the Otis School of Art and Design Summer of Art, an immersive college art experience located in Los Angeles, California, where students live full-time on campus. With multiple classes a day and weekend excursions, students are sure to explore their desired art and design pathway while having a fulfilling summer experience. The link to their website can be found here. 
          For artists at West Seattle High School, many opportunities exist for students to take advantage of, despite the struggles stemming from online school. Students are encouraged to reach out to find something which piques their interest, further invigorating our school community in a much-needed way.