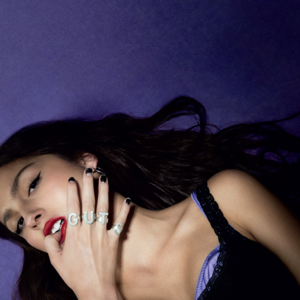 Olivia Rodrigo recently released her sophomore album, and here is my new fresh take on "Guts." 
All-American bitch: 
So, the song starts off with a calm guitar melody, very chill. My interpretation of this song is that everyone is different in their own way, and we all see the world differently, but then the chorus I feel like really emphasizes how our generation is remarkably similar. In this song she sings "Forgive and I forget, I know my age and I act like it." I think a lot of us can relate to this in how there's so much drama in the world, but we are ball really fast to just forgive and forget stuff, like we don't hold that big of grudges (at least some of us don't). Overall, I really like this song. I think it's fun and boppy. Overall Rating: 7.5 
Bad Idea, right? 
I really like this song. It has a good beat and melody; it is about wanting to hit it off with an ex again but knowing it is a bad idea. 
Overall Rating: 8 
Vampire: 
This song is an absolute bop to scream at the top of your lungs in your car. It was first released June 30th and gained popularity instantly. At first, I didn't really like it, I thought it was boring. But I never really listened to the whole thing. It grew on me and now it's made a spot on my playlist. 
Overall rating: 9 
Lacy: 
Ok so, at first this song to me was kind of boring, and I still feel that way. I was looking at the lyrics and I couldn't really figure out what it's about. It talks about being jealous of lacy, I guess. I don't really know where I'm going with this so I'm just going to end it here and say overall it's an ok song, not my fav though. 
Overall rating: 6.5 
ballad of a homeschool girl: 
This song is one of Olivia's more rock-ish songs. I like the overall vibe of the song. My interpretation of the song is that it's about being more of an awkward type of person and not being able to relate to people, or not being able to do anything right. Overall, I give this song a 7 out of ten, I like the song but it's not as much of my music type. 
Overall rating: 7 
get him back!: 
This is my favorite song on the album! I really love the melody and lyrics of this song and the production of this song. My interpretation of this song is that it's about wanting to get back with an ex just to break their heart and do the same thing they did to you. I would give this song a 10/10 
love is embarrassing: 
This song is really good. I like the overall melody of it and the lyrics. It talks about wasting all your time trying to be good enough and impress someone just to find out the never liked you. I really like this song id give it a 10 
Overall rating: 10 
Conclusion: 
So, in conclusion I like this album, it has a lot of good tracks and a lot of them are vibes. I think SOUR and Guts are two particularly good albums, but I do like SOUR a little bit better.