What is Prom to the West Seattle High School Class of '23?
Photography courtesy of Ricky Shearer / West Seattle High School ASB
Whether you grew up watching 80s rom coms or Disney channel sitcoms, Prom has always been the opportunity to live a dream.
From the fancy clothing to the stories of young love, Prom is the closest thing modern teens can get to a fairy tale; and after 3 years of Covid, the class of 2023 certainly deserves it.
After growing up watching TV that highlighted the perfect Prom, a running total of 301 students have bought tickets to a Red-Carpet Prom ASB has been planning for 10 months.
Originally stemming from 19th century debutante balls, Prom has come a long way from lessons on decorum and edict. It has evolved with the times, becoming the focal point of the romantic comedy genre since 1974.
"I've seen Prom on TV my whole life," said Isabella Latona, an exchange student from Milan, Italy who is living out the wish of her friends back home. "They're more excited than me! My sisters and family too."
For some, the glamor of Prom on the screen is making them buy a ticket against their better judgment. "Some people don't really want to go but they are just going because it is prom," said Latona.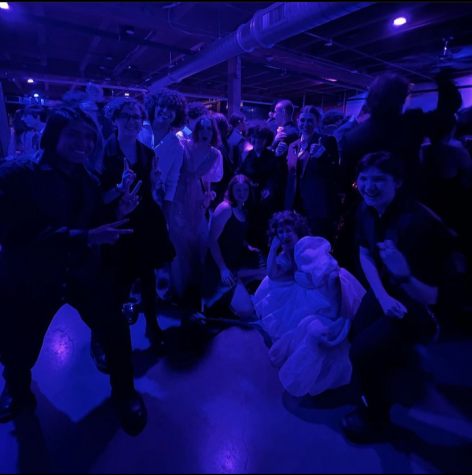 Nat Grimes believes that Prom is a once in a lifetime experience. Grimes turned down a workshop at the University of New Mexico earlier this year because it would have been on the same weekend as Prom. "You only get to rent a tux like twice in your life, at a wedding or at prom so you might as well use that opportunity."
ASB certainly feels the pressure, spending roughly $18,000 on Prom this year. "We're putting so much work into it and that's what maybe many people won't understand, like when people ask who did this – ASB did this and that's why we have been fundraising," said 1st year ASB member Jhana Hutchinson.
Hutchinson has watched the effort being put into Prom firsthand, but she is trying to keep her TV fantasy to a minimum. "I don't really have any expectations and whatever happens, happens and I'm going to be super happy with my guy."
Grimes' father urged him to keep his expectations low, "He was just like it was a fun time but it wasn't the best day in the world so don't get your hopes up." No matter the well meaning attempts to keep the bar low, seniors can't help themselves from dreaming of the moment they have been looking forward to for years.
"I would say there are a lot of expectations that I had and the people around me have about prom."