Who is that guy with the baton?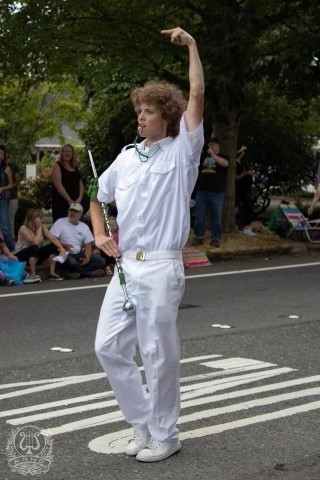 On a clear October night at the Nino Cantu Southwest Athletic Complex, Patrick Wood strides confidently to the South 40 yard line before a rampant student section. He stands, statue-esque, as the band begins a vibrant display of sonic force bettered only by the whirl of motion that comes from his baton. As the music floats away into the night, the baton flies high above the crowd, only to fall back into his hand with a muted thud. An awestruck audience is silent before bursting into endless applause. Exhilaration, relief, and a freeing sense of passion course through his veins as the final note plays, and years of work, condensed into three minutes of rapid excitement, end with an exhilarating payoff.
Wood's long and winding road to success on that night in West Seattle begins with the simple idea that drum majoring "looked cool." As a part of the renowned Seattle All-City Band, he had the opportunity in his first year to observe the senior drum majors. "I saw everyone in All City just out there on the field spinning…and I decided to do it my second year," said Patrick.
The All City Band has been active since 1951, performing in parades throughout the greater Seattle area including the yearly West Seattle Parade, at Lake City, Chinatown, and the Seafair Torchlight march through downtown Seattle. The band, made up of students from local schools, is dedicated to providing young musicians with opportunities to improve the many elements of musicianship, something Wood took with both hands.
As he grew as a drum major, he served as drum major in multiple parades during the summer of 2022. In an interview, we talked about this heavy workload. "It forced me to step up into a lot of leadership positions," he said. "I started getting comfortable with the leadership position and that's definitely influenced who I am and how I operate."
Heading into his final season in All City, he'll prepare for a final shot at prestigious parades in pursuit of one of the highest honors a drum major can achieve: Oak Leaves. Awarded to drum majors who complete one of the program's most historically significant and physically challenging parades, they represent everything that Patrick thinks of as central to the makeup of such a position. He told me that, "Usually, it'll affect your identity…but a lot of that, stepping up to leadership, wanting to put in the extra mile to help out the band, comes naturally with drum majoring. I would say pretty much always it affects who you are."
That attitude is what drove Wood to pursue the position at West Seattle, becoming one of the program's three drum majors in his junior year. As the band returned from the coronavirus pandemic, he was a force behind welcoming a class of freshmen and sophomores to the school who'd never played at a pep event with the band. As the program was able to return to football games, he served as a strong leader in the band's quest to attain the level they found before the pandemic.
As the vision of performing at the school's annual homecoming football game began to materialize, Wood started training. A year prior, he saw fellow drum majors practicing and began to learn, calling it "addicting, even more addicting than the regular baton." He thought of the flashiness of the short silver baton as exciting, and what initially began as an infatuation materialized into over eleven months of practice and rehearsal to reach his performance level.
By the time he reached the field at halftime, it was the culmination of months of dedication and (as he noted, often painful) training. However, he didn't think of the experience as cathartic. "Strangely enough for me, I was just having fun with it. I wasn't really thinking of anything else. I didn't even think afterwards, 'Oh my God, this is an achievement I should be proud of.' I wasn't that stricken." His cool temperament showed throughout the performance, as he made catch after catch, contorting his body to secure the baton as the ovation of the crowd rang throughout the stadium.
While Wood remembers performances similar to this year's from his brother, Henry Wood, and WSHS alumni, Koh Casaba and Katy Jones, he believes that they were able to raise the bar in this performance to an "almost perfect" level, bringing the entertainment that is preached throughout music programs to the big stage. "It's a hyperspecific skill…one that you don't get to use that often," he said. The chance to break it out is memorable, but the behind-the-scenes work is vital to the eventual outcome.
That night at SWAC will always stick in his memory as a milestone along a road he's been walking for close to five years. He was quick to note, though, that this wasn't the end.
Now, Wood is working to train the next generation of drum majors at West Seattle, working with underclassmen weekly to ensure an art that is largely taught by word of mouth and mentorship remains important to the community. He remembers role models like Casaba and All City staff member Alvin Calhoun as influential to the development of his personal style and drive, and one of his current goals at WSHS is to serve as that resource for students who show the same ambition he did.